Sell a Toyota Matrix Fast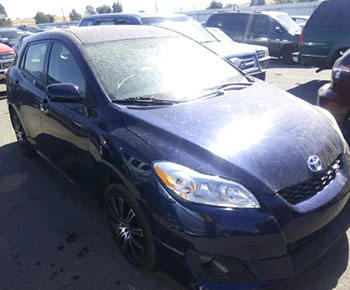 Sell your Toyota Matrix fast for cash with Copart Direct. We make it easier than ever to sell cars, trucks, SUVs or vans because we buy, tow and do the paperwork on all vehicle purchases. We are a true one-stop shop for selling a car fast. We guarantee our cash offers over the phone and schedule pick up with just one call.
The Toyota Matrix was discontinued in 2014, but we're still making offers on this sport compact automobile. The Toyota brand is known for its durability and safety, and that's why we'll give you top dollar for your used, damaged or salvaged Toyota Matrix.
We'll Buy a Toyota Matrix in Any Condition
Running or not-running. Like-new or junk. We'll offer you our best price, based on market value of your vehicle. Selling a wrecked car privately or trading it in at the dealership can be tough because most buyers don't understand the value of a damaged car. We think you should know that a car has value, no matter what kind of damage it has: vandalism, fire, theft or car accident. We'll buy your Matrix as-is, no repairs or detailing necessary.
Give us a call today at 1-888-883-9961, or fill out the form on this page to be contacted by a Copart Direct car buyer, and sell your used, damaged or unwanted Toyota matrix today!