Sell a Toyota RAV4 Today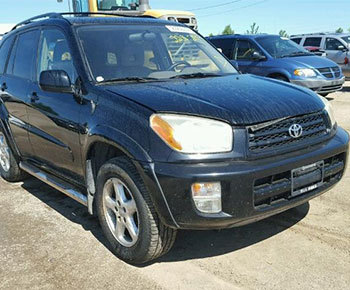 Sell Your Toyota RAV4 today for cash. Copart Direct is the safest, fastest and easiest way to sell any vehicle. We buy all cars, trucks, SUVs and vans, and we give guaranteed offers over the phone. We buy vehicles in any condition, and we tow them for free, so no need to worry if your SUV won't run. We have over 160 locations in the U.S. that are ready to pick up your non-working or wrecked RAV4 and give you cash on the spot.
The Toyota RAV4 has been in production since 1994, and its unique body style and roomy interiors won over American drivers instantly. The compact crossover received a facelift in 2000, but remained one of the safest and family-friendly SUVs one the market. We love making offers on the Toyota RAV4 because it's grown into itself among the competition. The newest version offers sensible upgrades, a more timeless look, and rivals the luxury mid-size crossover luxury vehicles produced by competing brands.
We'll Buy Your RAV4 in Any Condition
Copart Direct is a leader in buying damaged and salvaged cars, trucks, SUVs and vans. Whether you've been in a car accident and don't have the coverage to pay for expensive repairs or your RAV4 is just getting rusty and old. We have an offer for your SUV.
Call a Copart Direct car buyer today at 1-888-883-9961, or fill out the form on this page, and we'll give you an instant cash offer for your Toyota RAV4 today.