Sell a Toyota Highlander Today!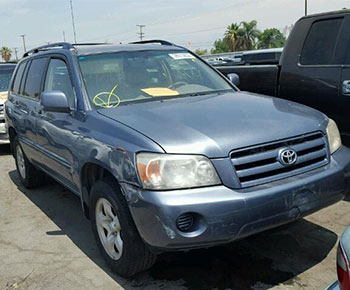 Sell Your Toyota Highlander fast and get cash with Copart Direct. We offer free towing and do all the paperwork for you. The only thing you need to sell your SUV today is a title. We give competitive pricing for used Toyota Highlanders, and one of our Copart Direct car buyers is ready to give you an instant offer with just one call.
The Toyota Highlander has been in production since 2000, and it's a great alternative to the gas-guzzling SUVs of the past. We love the Highlander for its roomy, family-friendly interior and its exceptional handling. We think this mid-size crossover deserves a competitive market offer, and we'll guarantee our price over the phone, no haggling needed.
We Buy Toyota Highlanders in Any Condition
Damaged, like-new, wrecked or old, we'll give you our highest offer for your Toyota Highlander. If you've been in an accident, you don't need to pay for costly repairs or detailing. We'll buy your Highlander as-is, and tow it from your home, office or body shop.
Give us a call at 1-888-883-9961, or fill out the form on this page to be contacted by a Copart Direct car buyer. We're changing the way people sell their vehicles, one less classified ad at a time.