Sell a Toyota Echo For Cash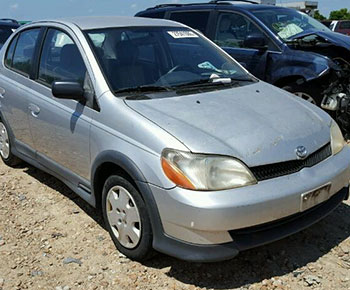 Sell your used, damaged or junk Toyota Echo for cash today! Copart Direct is the smartest way to sell an old or unwanted car for cash. We'll give you an offer for your Echo in less than 10 minutes, pick it up from your home, office or body shop, and do all of the transfer paperwork for you.
Copart Direct is a leader in buying used, damaged or junk Toyotas, and we give top dollar offers for Toyota Echos. Whether you call it a Yaris, a Tercel, a Paseo or a Platz, the Echo has been on the road in some form or another since 1999. The subcompact car is one of our favorite cars to buy because it's small, lightweight and comes in several different styles. Since the Echo stopped production in 2012, private buyer demand has died down for the vehicle, but we still offer our highest offers for used, damaged or junk Toyota Echos. Compare our offer to dealership trade-in to make an informed decision before you sell.
We'll Buy Your Toyota Echo
We buy all makes and models of cars, trucks, SUVs and vans, including the Toyota Echo, and we make no-obligation offers every day for used, junk, like-new or wrecked vehicles.
Call a Copart Direct car buyer today at 1-888-883-9961, or fill out the form on this page, to get an instant, guaranteed offer for your Toyota Echo. We're the easy, smart and safe alternative to dealership trade-in and private selling, and we can't wait to show you just how easy selling a car can be.