How To Sell Junk Cars
3 Simple Steps To Selling Almost Any Vehicle For Cash – Fast
Up until recently, it wasn't very easy to sell junk cars. If you have an old, beat-up or otherwise undesirable car sitting on your property, then you know how frustrating this process can be.
Advertising in the newspaper only COSTS you money. And besides, who really wants your junk car, anyway?
Putting an ad on websites like Craigslist is like personally inviting all the scammers and spammers on the Internet to contact you by email and phone.
Taking your car to the junk yard or scrap yard is a waste of gas money. You won't get even a fraction of what your car is really worth.
Trading in your car at a dealership is like throwing away money. Don't let the salesman make you think you're getting a good offer for your trade-in. In reality, you're getting the equivalent of the discount you would have gotten on a new car, had you negotiated stronger.
So, how do people sell junk cars? What do you do if you KNOW there's still value in your vehicle, but no one else will buy it?
Here's what you do:

Sell Junk Cars In 3 Easy Steps
Step 1) Request an offer right now by calling Copart Direct.
There's a far simpler, faster way for anyone to sell junk cars – call Copart Direct at 1.888.883.9981.
Copart Direct buys almost any car, anywhere in the United States. In fact, they're one of the largest buyers of used cars in the country.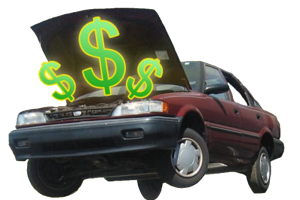 To request an offer, all you have to do is call their toll-free number. A friendly Copart Direct representative will ask you some quick questions about your vehicle. (What kind it is, how old, etc.) We'll make an offer over the phone, which you are free to accept or decline. There is no obligation or pressure of any kind.
Step 2) A Copart Direct agent comes to pick up your car.
In as little as one day after you call us (in some cases, only a few hours after!), a Copart Direct agent will come to pick up your car and finally take it off your hands. No need to tow it or drive it anywhere. We come to you – and we can even meet you at your work if that's more convenient.
Step 3) You get your money on the spot.
When the agent comes to get your car, you get your cash. It all happens at the same time, so you don't have to worry about waiting for a check to come in the mail in weeks or months. Simply exchange the title and the keys for your cash.

It's Never Been So Simple To Sell Junk Cars
Copart Direct has agents at more than 140 locations across the United States. This allows us to purchase used cars in every state. And when you accept our offer, we can typically arrive within a day.
Don't let your car continue sitting, losing value by the day. Call Copart-Direct at 1.888.883.9981 to see how much you could get for your vehicle.